DEI Consulting
Whether you want to create or reinforce a culture of diversity, equity and inclusion, Amplify Play can help you reach your goals. We currently offer consulting services (including sensitivity reading and editing) through our Ko-Fi membership as well as à la carte.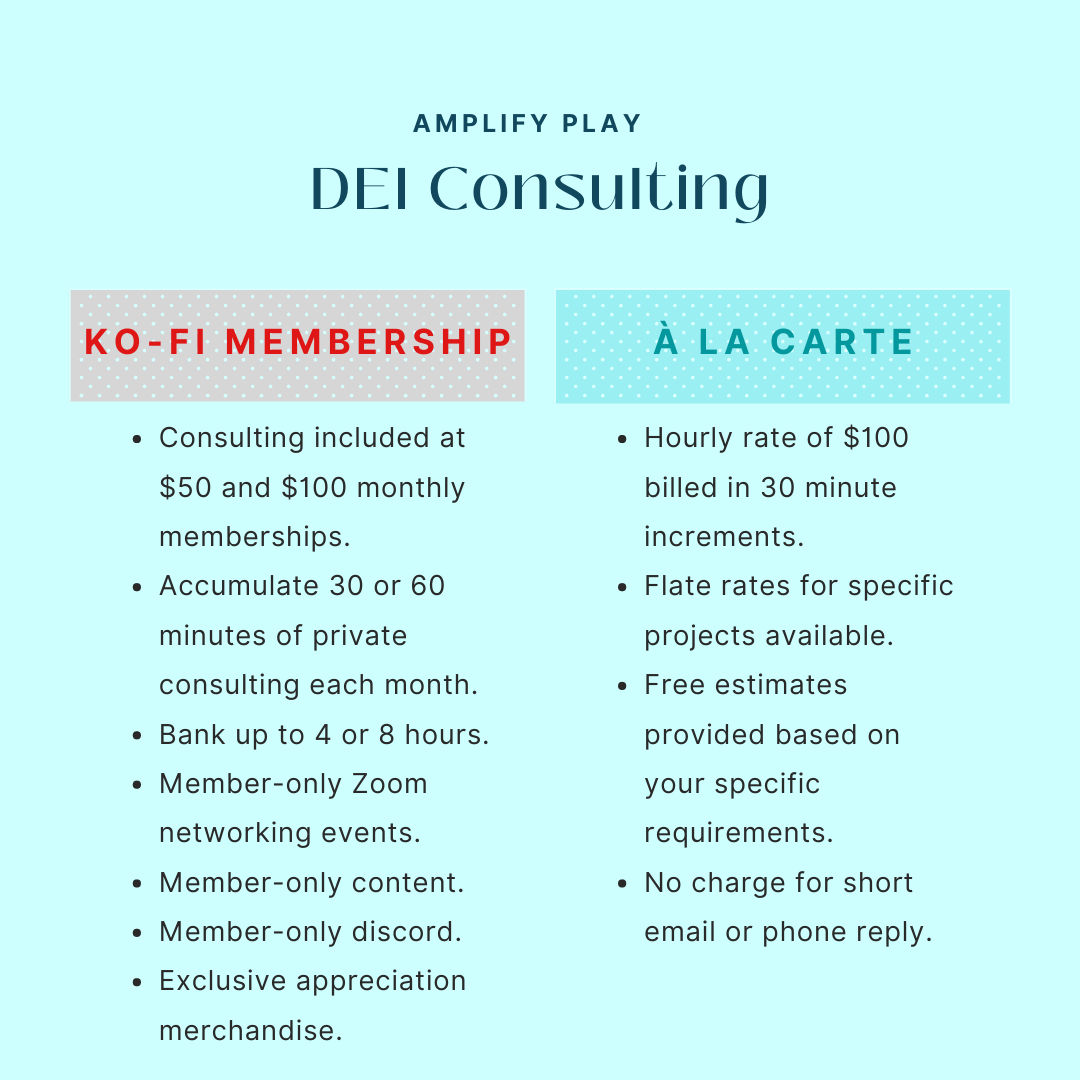 Classes & Events
We offer professional development, public and private classes and team building events catered to fit your organization's particular needs. From problem solving and math, to cooperating and networking, games go beyond an enjoyable pastime in our unique, interactive workshops and events.
Contact us today to book your class or event.
Public Workshops
We regularly offer public workshops for individuals interested in creating more inclusive groups in their communities.
Professional Development: DEI in the Workplace
Our Professional Development workshops provide 3 hours of continuing education credits in Diversity, Equity and Inclusion in the workplace for up to 15 people.

Private Classes for Educators
Studies have shown that students of all ages learn better through play. We will work with your team-lead to customize the ideal private class for your team. A variety of topics are available from how to use board games to promote student interest in STEM subjects to how to incorporate elements of role-playing games (RPGs) in your class to boost learning and stimulate intellectual curiosity.
Team Building
During our truly unique team-building experience, your group will learn up to three games that will spark strategic thinking, teamwork and problem solving skills. Not only will your group get to work together toward an in-game common goal, but they will be coached on communication strategies.
"They can blow off steam, decompress, and network all at the same time."

-Reid Hoffman, LinkedIn
Winning in business is rarely a solo endeavor and games are an excellent low-pressure networking environment. Additionally, Reid Hoffman of LinkedIn Corp. has described board games in general as a kind of off-duty MBA course that can exercise the brain to think strategically.
Contact us today to book your class or event.